New community housing for Redfern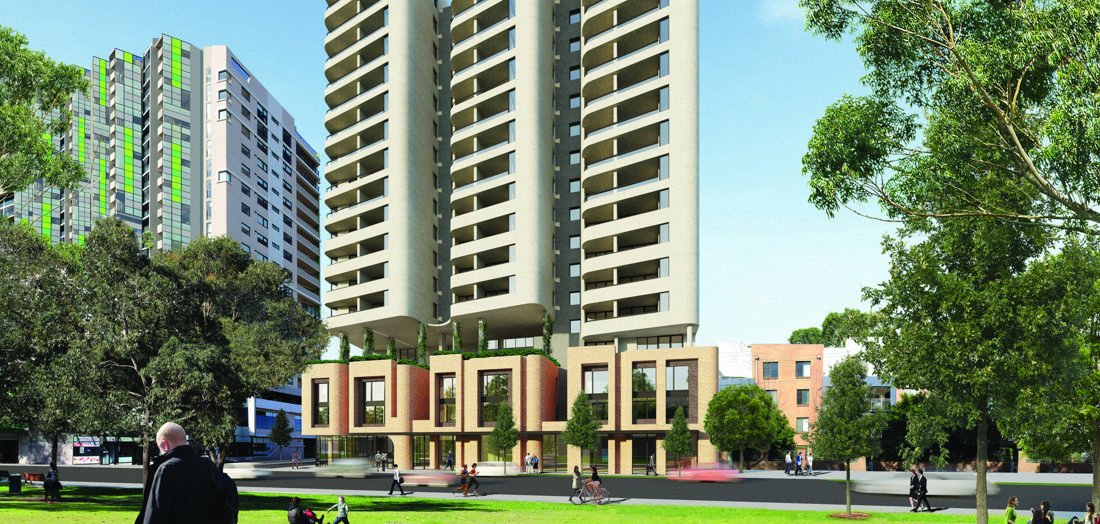 SGCH media release
12 September 2019
Leading community housing organisation SGCH has achieved a milestone on its latest flagship development within the heart of Redfern. The proposal for a 160 apartment development located at 11 Gibbons Street, Redfern has been approved by the Independent Planning Commission. This innovative sustainable 18-storey development will provide a mix of 1, 2 and 3-bedroom units and include ground floor retail/commercial space, an SGCH management office and a community hub.
SGCH Group CEO, Scott Langford says "This project will provide an important piece of social infrastructure in a high demand location with excellent access to public transport and major employment centres. We've shared this vision with partners including the City of Sydney through the discounted land contribution and project financiers Clean Energy Finance Corporation.
This is a critical project moment and brings us closer to the day we welcome 160 households into their new home in the heart of Redfern.
Through an established partnership with CEFC, SGCH develops high quality buildings with enhanced sustainability standards. The building will be energy efficient with an 8-star rating under the Nationwide House Energy Rating Scheme (NatHERS). This provides increased thermal comfort and reduced household energy costs, a vital benefit for low income households in social and affordable housing.
CEFC Head of Social Infrastructure Victoria Adams said: "Gibbons Street, which is being designed to achieve 8.3 star NatHERS is promising to be a landmark development for community housing in Sydney. We are very excited to be working with SGCH to build on our past experience together in constructing homes which provide ongoing clean energy benefits for tenants through improved energy efficiency and sustainability outcomes."
SGCH is purchasing the site – previously a council depot - from the City of Sydney who have made it available specifically for social and affordable housing. "I'm really pleased to see this important development has been approved, especially as Sydney faces a critical shortage of affordable housing." Lord Mayor Clover Moore said.
Affordable housing allows key workers such as teachers, nurses and firemen live close to their place of work, ensuring our city remains diverse and inclusive.
"We are continually exploring new ways to increase the supply of affordable housing in our city, including through selling land at discounted rates and through our Alternative Housing Ideas Challenge which will help develop new housing models and new ways of thinking about housing finance, management and design."
SGCH is working with Joe Hurst from the Boomali Aboriginal Artists Co-Op to incorporate Aboriginal art as part of the building fabric, including the brick façade, lobby and the communal open space. The site is part of a state significant area known as the Redfern Waterloo Growth Centre for which the consent authority is the NSW Planning Minister. The development is the outcome of a detailed Design Excellence pilot program SGCH were invited to participate in with the NSW Government Architects. The application was lodged with the Department of Planning and Environment in September 2018.
Following this approval of the DA, construction is expected to start during October 2019.
About SGCH
SGCH is a leading not-for-profit community housing provider with over 30 years' experience in developing and managing sustainable, safe and affordable homes and connecting people to opportunity.
Recognised as one of the largest community housing providers in Australia, SGCH now houses around 11,000 people in over 6,300 homes across the Sydney Metropolitan Region, with a development pipeline of 1,000 dwellings to be delivered by 2022.
Our pioneering partnerships with government agencies, community groups and support services allow us to increase the number of good quality homes and connect people to training, education, employment and community engagement opportunities.
Media release, 2019