Executive committees
The CEO has responsibility for the day-to-day management of the CEFC, assisted by the Executive and its committees:
Executive Investment Committee: reviews all investment proposals, excluding those of the Clean Energy Innovation Fund
Joint Investment Committee: operated in conjunction with ARENA, reviews all investment proposals relating to, and the performance of, the Clean Energy Innovation Fund
Asset Management Committee: oversees the management and performance of the CEFC investment portfolio
Executive Risk Committee: oversees performance and risk management matters relating to CEFC investments and for the CEFC itself.
Terms of employment
The CEFC is committed to attracting and retaining talented and committed professionals to deliver on our purpose.
The terms and conditions of CEFC employment relationships are formalised with individual employment agreements based on the National Employment Standards. Non-executive employees are also covered by the Australian Government Industry Award 2016.
The CEFC offers flexible work arrangements to all employees, as well as paid parental leave and purchased leave, reflecting the diverse needs and preferences of our people. CEFC employees receive a total compensation package of fixed and variable remuneration. Remuneration is reviewed annually, referenced against market data from the Financial Industry Remuneration Group.
The CEFC Variable Compensation Plan recognises the individual performance of eligible employees, including behaviours that contribute to the achievement of corporate and individual key performance indicators, and the growth and sustainability of the CEFC.
Structure
The Chief Executive Officer is appointed by the Board, in consultation with the responsible Ministers. The CEO is a statutory officer, with the Executive and staff employed under terms and conditions determined by the Board.
The CEFC has staff in Brisbane, Canberra, Melbourne, Perth and Sydney. Key organisational activities include investment origination, transaction execution, portfolio and asset management, support for early-stage innovative technologies and financing projects, with the support of corporate functions across legal, finance, IT, compliance and risk management, marketing and communications, investment research, stakeholder relations, people and culture, and administration.
The CEFC holds 100 per cent of the issued share capital in two subsidiaries: CEFC Investments Pty Limited (ACN 616 070 430) and Clean Energy Investment Management Pty Limited (ACN 628 443 854).
Organisational developments
During the 2020–21 year, we strengthened areas of the organisation, to capture new market opportunities and manage our evolving investment portfolio. Key developments included:
Creation of an Impact Capital team to develop opportunities to expand capital availability to companies in the post–venture capital/pre-initial public offering stage of their development
Expansion of the Credit and Risk function, to support an increased focus on equity transactions
Appointment of additional venture capital expertise to accelerate the progress of the Clean Energy Innovation Fund
Increased capacity to assist in the assessment of complex energy markets and transmission matters
Additional investments in data analytics and reporting, information technology and digital collaboration tools
Adoption of a CEFC ESG policy, providing an ESG overlay to established CEFC investment policies and guidelines
Refurbished and extended our Sydney office working environment, accommodating recommended COVID-19 physical-distancing requirements while taking advantage of favourable office leasing conditions.
Adapting to the pandemic
CEFC staff continued to adjust to the ongoing disruption of the pandemic in 2020–21, with the organisation pivoting to a new 'agile working environment', featuring a complementary focus on business and personal priorities.
CEFC staff are supported in working within flexible, technology-enabled teams to deliver against our business goals efficiently and successfully. In addition, staff are supported in achieving a balance between work and home life, enabling a greater sense of wellbeing and underpinning a strong and collaborative workplace culture.
The introduction of the agile working environment was complemented by a range of initiatives to encourage employee engagement during the year, including wellbeing initiatives around mental health, physical fitness and resilience. Two small-scale employee surveys encouraged staff to provide feedback on the changed working environment and the impact of the pandemic. We were pleased to see an increase in positive perceptions relating to wellbeing, from 64 per cent to 75 per cent in a six- month period, following the introduction of some of these initiatives.
A more in-depth employee survey during the year, which achieved a 93 per cent participation rate, ranked CEFC employee alignment and engagement levels in the top quartile of benchmarked organisations.
At the end of the 2020–21 year, the CEFC had 124 employees, an increase of eight on the prior year. As a specialist financier, the CEFC recruits experienced, senior practitioners within each functional area, which is reflected in the average employee age of 42.65 years. The CEFC continues to reflect a diverse cultural profile. The proportion of employees born overseas is steady at 46 per cent, including 57 employees from 26 countries, in addition to those born in Australia. Refer Appendix B for additional information.
Gender equity
At 30 June 2021, 71 per cent of the CEFC Board and 25 per cent of the CEFC Executive Team were female and 33 per cent of senior management positions were held by women. Women were awarded nine (56 per cent) of the 16 promotions in 2020–21, taking female representation at the Executive Director level to 29 per cent. Overall, gender diversity improved in the reporting year, at 52 per cent male (down two per cent) and 48 per cent female (up two per cent).
The gender pay gap at the end of 2020–21 was 26 per cent in favour of men, calculated using the average of all salaries (excluding the CEO). While this was a slight deterioration on the 22.6 per cent gap of the prior year, the 2020–21 position compared favourably with the 36.5 per cent gap in favour of men reported by the Workplace Gender Equality Agency for similar-sized financial services organisations. At the CEFC, this gap is due to a larger proportion of men being in higher paying positions compared with women. A more precise measure of gender pay equity, across like-for-like positions, showed a six per cent absolute average pay gap across 12 positions where a gender pay gap could be calculated, compared with the previous seven per cent gap. For eight of the 12 positions, women were paid slightly higher on average than men, indicating that systemic gender bias is not present at the CEFC.
Related initiatives around gender equity in the 2020– 21 year included:
Maintaining our leadership role in the 1,100 member Women in Sustainable Finance initiative, which included supporting events discussing transport decarbonisation and measures to deliver an equitable transition net zero emissions
Hosting CEFC Board member Nicola Wakefield Evans for an International Women's Day staff presentation about her career and advocacy work to increase the number of women on the boards of Australia's largest listed companies
Participating in the Annual Women in Finance awards, with two staff members selected as finalists.
Reconciliation Action Plan
The CEFC completed the Reflect phase of our Reconciliation Action Plan (RAP) in 2020–21. We recognise that stronger cultural understanding and relationships with Aboriginal and Torres Strait Islander peoples is central to ensuring we are better informed in the decisions we make as a responsible investor, procurer, employer and industry leader.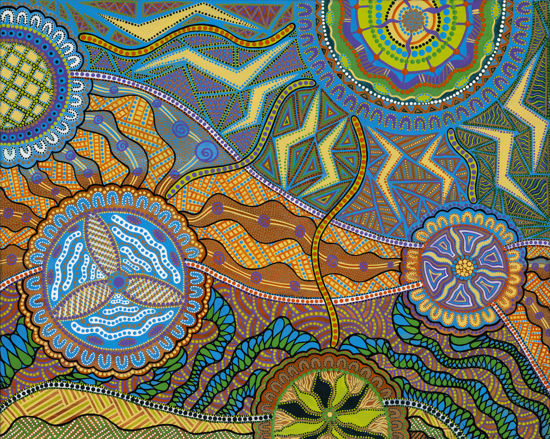 CEFC RAP artwork by Wiradjuri artist Jordana Angus: Creating a sustainable future.
Key actions during the year included:
Appointment of an external RAP Advisory Committee to guide CEFC RAP endeavours
Development and implementation of a First Nations investment screening procedure, to consider the potential impacts of CEFC investments on First Nations communities, and to identify opportunities to engage with First Nations peoples on whose land we work
Hosted the first roundtable between the First Nations Heritage Protection Alliance and the Responsible Investment Association Australasia, to facilitate discussion with institutional investors on the protection of Australia's Indigenous heritage
Provided continued support for CareerTrackers, a national non-profit organisation creating career pathways and support systems for Aboriginal and Torres Strait Islander young adults
Featured Acknowledgement of Country recognition and presentations at staff Town Hall meetings
Completed our inaugural First Nations Cultural Awareness staff training program, which achieved a 90 per cent participation rate
Welcomed an Aboriginal Elder to conduct a traditional cleansing ceremony at the opening of our refurbished Sydney premises, where the names of meeting rooms reflect the local language of the First Nations peoples of the Eora Nation, on whose land the building sits.
Read next
Risk management
Risk management