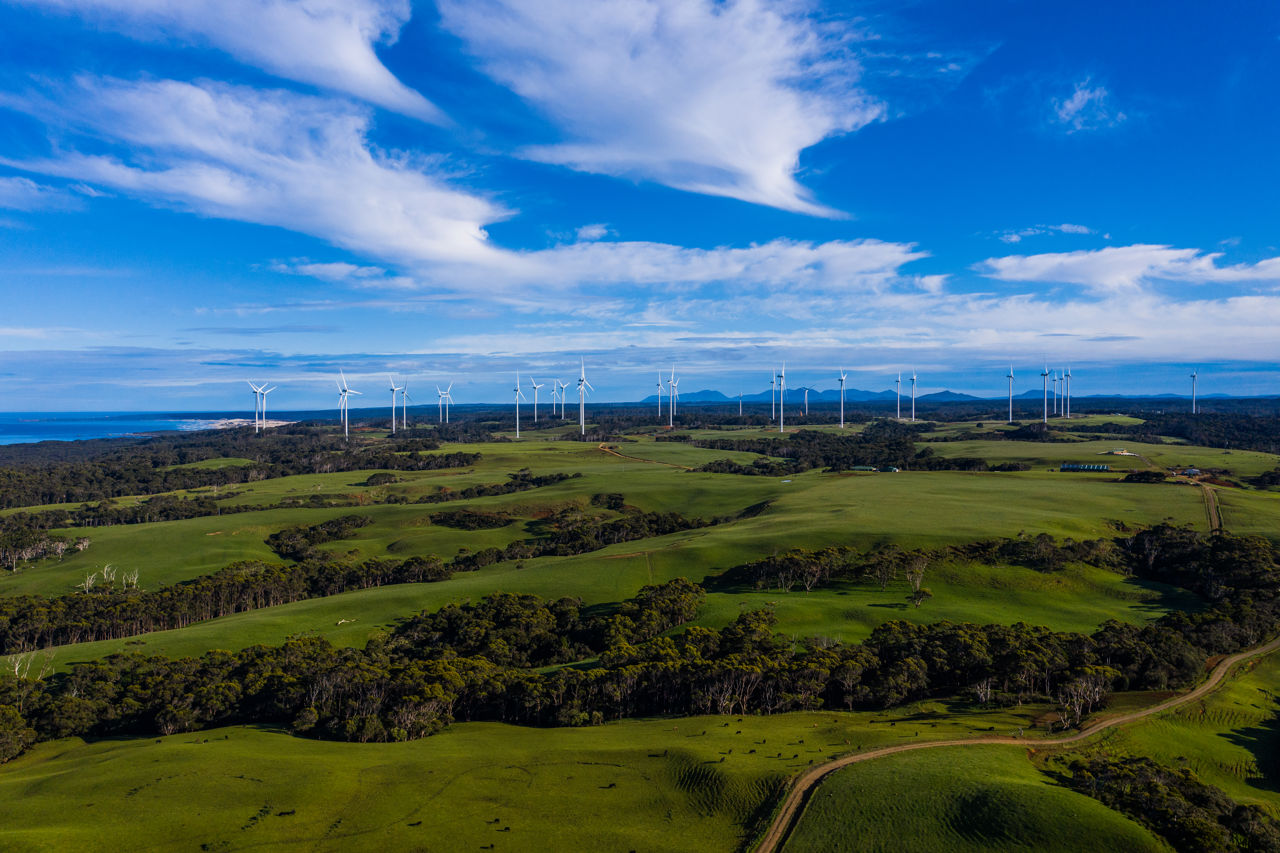 Case study
Granville Harbour delivers
wind advantages for Tasmania
Cattle farm has exceptional wind farm resources
The 112 MW Granville Harbour Wind Farm has significantly increased Tasmania's wind energy capacity, with the potential to supply almost every household in north-west Tasmania with clean energy. The wind farm is owned by Palisade Investment Partners on behalf of its clients. It operates with a long-term power purchase agreement with Hydro Tasmania.
This is our largest investment in Tasmania, and our first in a Tasmanian wind project. Tasmania has a great track record in renewable energy through its investment in hydro resources. We're excited to be involved in a project that will further diversify the Tasmania's clean energy to include more wind, while helping Tasmania achieve its target of 100 per cent renewable energy by 2022.

Ian Learmonth

CEO, CEFC
Our investment
The CEFC has $67 million in equity indirectly committed to the project via its investment in the Palisade Renewable Energy Fund (PREF). A CEFC direct equity commitment of $25 million made in July 2018 was sold to John Laing in December 2018. 
our impact
Located on a 1,200 hectare cattle farm near Zeehan on Tasmania's west coast, the $280 million wind farm began generating to the grid in February 2020. The wind farm site was selected for its exceptional quality wind resources.
The Granville Harbour Wind Farm is expected to operate for 30 years, with a team of 10 permanent employees managing the site. During construction, the wind farm provided 125 jobs. The Granville Harbour development – which is expected to provide enough electricity to power 46,000 homes – is part of an increasing focus on wind energy in Tasmania, which is expected to result in considerable investment in regional areas of the state over the coming years.
At the release of the Battery of the Nation white papers in April 2020, the Tasmanian Government announced that the State was on track to meet its target of 100 per cent renewable energy by 2022, and looking to become a net exporter of electricity by supplying renewable energy to the National Electricity Market.