Investment in a secure, affordable and sustainable energy future will stimulate the Australian economy as well as accelerate the progress already made in transitioning to a low emissions economy. CEFC capital will continue to play an important role. Exciting prospects for investment continue to emerge, including through the anticipated Grid Reliability Fund, as well as those noted in the Australian Government Technology Investment Roadmap. During 2019–20 the CEFC Clean Futures Team pursued opportunities that align with the goals of both the Grid Reliability Fund and the Roadmap, including energy-related enabling technologies that can offer greater support to the electricity grid. This may also involve investment in transitional technologies that may play a critical role in supporting the energy system.
As a specialist investor, the CEFC has a strong focus on its own Environmental, Social and Governance (ESG) performance and work is well advanced on the development of a consolidated ESG policy. In 2019–20, for the third year in a row, the CEFC achieved carbon neutral certification for its organisational footprint under the Australian Government Climate Active Carbon Neutral Standard (previously the National Carbon Offset Standard). In 2019–20 the CEFC introduced its first Reconciliation Action Plan and is considering how it can contribute to better outcomes for Aboriginal and Torres Strait Islander peoples as an employer, procurer, responsible investor and industry leader. The organisation continued to focus on improving gender equity, with an emphasis on increasing female representation at senior leadership levels. It has also taken a lead role in the Women in Sustainable Finance initiative, which it co-founded in 2016.
The year's achievements stem in no small part from our good working relationship with the Minister for Energy and Emissions Reduction, the Hon Angus Taylor MP and the Minister for Finance, Mathias Cormann and through the support of the Department of Industry, Science, Energy and Resources. We thank Senator Cormann for his support and wish him well in his post-parliamentary future.
The CEFC Board thanks our CEO Ian Learmonth, the Executive, and all the staff for their commitment, hard work, high standards and energy.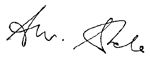 Steven Skala AO
Chair, CEFC