Qualitas launches $1 billion build-to-rent fund with cornerstone investment from the CEFC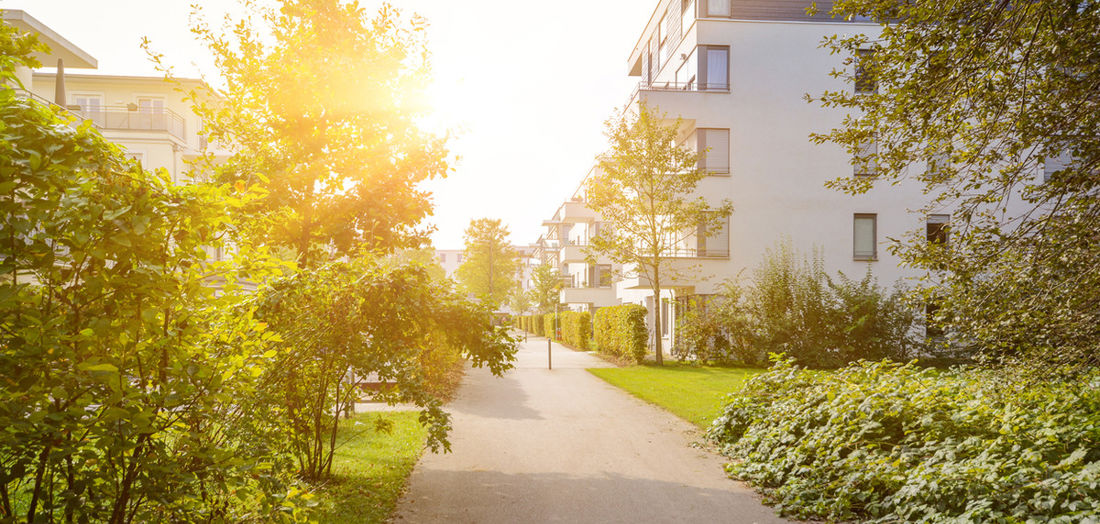 24 February 2020
Qualitas has today announced a new fund to finance the construction and management of energy efficient, low emissions build-to-rent (BTR) residential buildings. The fund is backed with a cornerstone investment commitment of up to $125 million from the Clean Energy Finance Corporation (CEFC), to boost clean, green rental stock and extend the benefits of clean energy to Australian renters.
The Qualitas Build-to-Rent Impact Fund (QBIF, or the Fund) is Australia's first property debt fund to elevate minimum sustainability criteria into its investment criteria, as well as being Australia's first dedicated BTR debt platform.
It will finance housing that meets strong sustainability standards and reduces greenhouse gas emissions by at least 35 per cent compared with the current building code. Improved energy efficiency means lower energy consumption for residents and asset owners.
BTR – also known as multi-family housing – refers to purpose-built residential rental accommodation, owned by institutions and designed to meet the needs of residents. While new to Australia, the asset class is well-established in the US and Europe, and more recently the UK. 
Tim Johansen, Managing Director, Global Head of Capital at Qualitas, said QBIF would target strong and growing demand for residential rental accommodation, while supporting Australia's transition to a low carbon future.
"QBIF will help deliver quality housing stock into the growing rental market. Around 1 in 3 households in Australia are renters, and this number is increasing. Yet new housing starts have fallen in recent years, putting pressure on future supply and rental prices. It's clear that a new approach is needed and BTR is part of the solution," Mr Johansen said.
"Qualitas is also determined to accelerate Australia's transition to a low carbon economy and the 'green' overlay of the fund will help reduce emissions generated by residential housing."
CEFC CEO Ian Learmonth said that QBIF was a significant opportunity for the CEFC and private sector investors to contribute to a low emissions foundation for an emerging market sector.
"The CEFC is committed to supporting innovative investment products like QBIF that attract private sector investment into projects that reduce carbon emissions while delivering attractive returns," Mr Learmonth said. "We look forward to leveraging Qualitas' track record in real estate finance and debt funds management position to execute the Fund's strategy."
Buildings account for more than 50 per cent of Australia's electricity use and almost a quarter of carbon emissions, with residential property driving about half those emissions. 
To qualify for QBIF finance, projects must demonstrate minimum sustainability standards, including a 7-star average NatHERS rating and a 5-star NABERS for Apartments Energy rating, as well as criteria for appliances and solar generation on the available roof area. These standards will be achieved through a combination of passive design, upgraded building fabrics such as insulation and glazing, high-efficiency HVAC plant, energy efficient appliances such as dishwashers and refrigerators, and on-site solar systems.
Mr Learmonth added: "BTR is unique because it gives developers the opportunity to invest in energy saving initiatives that generate value over the property's life by reducing operating costs and the exposure to rising energy costs, while contributing to higher valuations.
"A cleaner, greener built environment offers long term benefits for investors and the community because of the significant low carbon dividend.
"Energy efficient housing can reduce pressure on the electricity grid, while attracting a growing number of residents who value the benefits of more comfortable housing, lower energy bills, and a lighter carbon footprint."  
Mr Johansen said that the cornerstone commitment from the CEFC was instrumental to launching the Fund.
"We are pleased to have the support of an institutional investor such as the CEFC who shares our commitment to the BTR sector and a lower-carbon economy. We are also in discussions with a range of local and offshore institutional investors who are attracted to the BTR opportunity in Australia and the Fund's sustainability impact.
"From an investor's perspective, BTR provides significant benefits within real estate and credit portfolios, including low volatility, low correlation to other asset classes, and a diversified credit risk thanks to a large tenant base. Accessing the asset class through secured debt also provides structural protection for investors. We believe the Fund will be attractive to investors seeking consistent income in a low rate world."
Qualitas expects significant demand for the loans from experienced developers committed to BTR and believes the Fund will capitalise on the financing gap created by the tight capital constraints on the traditional banks for the BTR sector.  The Fund's ability to provide up to 7-year loans, LVRs up to 70 per cent and competitive pricing is compelling for BTR developers and to this end, Qualitas has already identified a pipeline of five significant projects totalling over $700m in loans.
"Whereas the current residential build-to-sell model focuses on pre-sales debt coverage, the new Fund will consider the business case of the project, and provide loans that cover both the construction and operational phases. It's tailor-made for this emerging part of the residential sector," Mr Johansen added.
Andrew Schwartz, Qualitas Founder and Group Managing Director added: "We are very pleased to have successfully established this new Fund with two objectives in mind: firstly, the need to provide a cost-effective capital solution to develop and own Build-to-Rent accommodation and secondly, to lead the way through capital allocation to promote and reward sustainable construction methodologies.  
"Qualitas views sustainable and impact investment as one of our highest priorities, not just for this particular Fund but across all our strategies and policies."
About Qualitas
Qualitas is one of Australia's leading real estate investment management firms specialising in real estate equity and debt investing.  Established in 2008, the firm has invested in or financed assets valued at over $11 billion since inception. The firm invests across the capital structure in senior debt, mezzanine debt, preferred equity, and equity with a focus on core, value-add, opportunistic and debt strategies. Qualitas manages discretionary funds on behalf of institutional and wholesale clients in Australia, Asia, and Europe.
Media release, 2020