Insights
Star treatment
in hotel first
Pro-invest Group brings sustainability to hotels
Hotels are traditionally high energy consumers and high carbon emitters. Focusing on energy efficiency solutions is helping to cut those emissions, as well as delivering benefits to hotel owners and operators, while offering guests the opportunity to make more sustainable accommodation choices.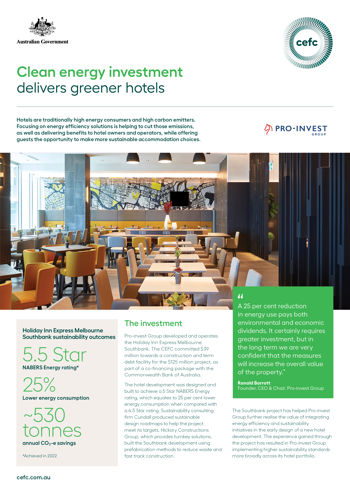 Read our Insight
Clean energy investment delivers greener hotels
August 2022
The $125 million Holiday Inn Express Melbourne Southbank has been designed to significantly reduce energy consumption, with a range of initiatives to deliver ongoing benefits for owner/ Pro-invest Group, hotel guests and the environment. 
Read more
Our investment
The CEFC provided $39 million in debt finance to the Pro-invest Group development of the Holiday Inn Express Melbourne Southbank hotel, which achieved a 5.5 star National Australian Built Environment Rating System (NABERS) Energy rating in 2022.  
As part of the CEFC finance, Pro-invest Group lifted the design standard for the project, ensuring the latest clean energy technologies were included from the construction stage. These design changes  targeted a 25 per cent drop in the hotel's energy use, delivering a substantial energy saving that provides ongoing benefits for the hotel, carbon-conscious guests and for the environment. 
Our goal is to work across the entire property sector to deliver lower carbon emissions. Through our investments we are providing real life examples to property developers of how and where new technologies can deliver the most value. There is no question that investments in clean energy technologies offer real and lasting benefits across the property sector.